"The British come like cats and disappear like ghosts." ~ German officer in a letter to his commander.
From West Africa to the Aegean Sea, secret, ruthless, Benzedrine-hyped renegades terrorized Italian and Nazi soldiers. Small teams of "deniable" British troops of the Special Operations Executive (S.O.E.), also known as the Ministry of Ungentlemanly Warfare, raided ports, ammunition caches, fuel dumps, and airfields of the Axis powers. They blew things up, stole ships and gold, killed anyone who tried to stop them, and kidnapped enemy soldiers whenever possible.
Led by anti-establishment rogue warriors, like the Danish Viking Anders Lassen, these units – established by Winston Churchill after the fall of France in 1939 – struck dark fear into the hearts and minds of regular German troops and their commanders throughout the chaotic, wartime Mediterranean. Their "butcher-and-bolt" raids were chock-full of subterfuge as they used the cover of night to sabotage, wreak havoc, and deluge the enemy with a kind of whispery quiet and speed and military prowess not seen in any war previous.
This was the advent of a new kind of military unit, one that saw fit to break all the rules of war, to dare to do the impossible, and to have no mercy on the enemy. This was the birth of our modern Special Forces Black Ops.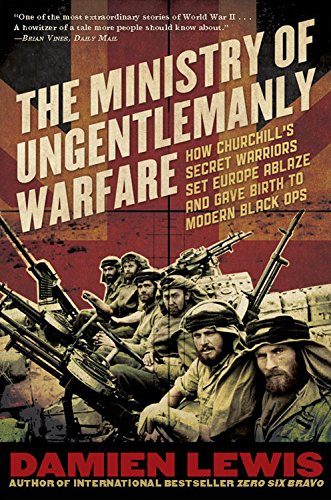 Celebrated author Damien Lewis describes these soldiers and their valorous campaigns with the kind of excitement and attention to detail that makes The Ministry of Ungentlemanly Warfare (Quercus, 2015) read more like a novel than a book of actual history. It is difficult to put this book down.
Missions are breathlessly rendered , the successes as well as the failures. And when Lewis pulls back to give the bigger picture, he does so with a barrage of stories of intrigue, in-fighting, and political power-plays that astound the reader with their depictions of the pettiness officials maintained in defense of egos and reputation.
As the chronology of operations unfolds, it becomes clear how integral these units were to the war effort of the British and the Allies.
After the success of various Channel Island raids, Churchill says, "There comes out of the sea from time to time a hand of steel which plucks the German sentries from their posts with growing efficiency" (p. 128).
Among other details, Lewis also successfully captures the depth of training these men endured. Initially, they were trained by the creators of the Fairbairn-Sykes Fighting Knife, a preferred weapon of the S.O.E. Their training was called a "school for bloody mayhem," where they learned to shoot a gun "fast and deadly from the hip, 'Shanghai style,'" and that there's "no more deadly weapon at close quarters than the knife because 'it never runs out of ammunition.'" They became experts in explosives, throwing grenades, and outright thievery. Later, as part of the Special Air Services, they adapt the motto "Who Dares Wins."
[sc name="ad-300x600"]
To some, they were hoodlums. In the end, though, they were heroes.
Lewis recounts the story of these units through the brief lives (most were in their 20s) of about a dozen of the men who filled their ranks early on and especially those who lead them. He succeeds in giving the reader a sense of their camaraderie, their dedication and loyalty to each other, their wildness, and their willingness to give their all through every foil, flop, and triumph.
Unit leaders Major Gus March-Phillipps,  Major Geoffrey Appleyard, and especially Major Anders Lassen are given center stage in this fast-paced, well told tale, and they become names — although heretofore unknown by the general public — the reader will not want to forget. For their heroism they are cited with awards and medals, but for their swashbuckling characters, derring do, and daring to give their lives for their brothers-in-arms and the terrorized civilians they intended to free from the tyranny of the Nazis they become legends.
This is a great read. You don't have to be a history buff to appreciate the telling of these stories. In fact, March-Phillips, Appleyard, and Lassen are known to be the very models for who would become the most famous British agent of all time, Ian Fleming's 007, James Bond.
The birth of modern black ops is told with flare and excitement, but also with compassion for those spirited soldiers who filled the ranks. These first "butcher-and-bolt" units Churchill created have quite a story, and Damien Lewis writes The Ministry of Ungentlemanly Warfare like an amped modern thriller that could be a blockbuster on the big screen.
Don't wait for Hollywood to ruin it, though. Read this book.
Featured image from Flickr.