"They get their bloodbath, they get their kick to see somebody get beat up, they get their itch of controlled violence," he said, looking out over the parking lot. "I think that's what it is, people like to see other people get hurt, people like to see other people victorious, people like to see blood, people like to see pain." ~ American Top Team fighter Daniel Strauss in conversation with Doug Merlino
I'm a fight fan. So I'm blown away shocked when on Saturday night, October 17, 2015, I watch Nick Newell, after winning a unanimous decision at World Series of Fighting 24, retire from MMA fighting at age 29. I'm stunned. I want to tell myself I saw it coming. But I didn't.
Still, I'm happy for him. I've met him, conversed with him. He's sensitive, humorous, and thoughtful. I only want what's good for him.
But he's also a badass in the cage.
And so as happy as I am for him, I have hopes he'll come back and fight some more. His 13-1 professional record in the cage is great, but it doesn't read finished. In his post-fight interviews, an emotional "Notorious" Newell says that his body can't do it anymore. More and more injury prone, he's recognized that he physically can't give to the sport or his fans his best. His best fighting condition behind him, he's decided it's time to move on, perhaps into coaching and even broadcasting.
Newell is educated, witty, and charming. In his brief career, he's developed an incredibly loyal fan base. After all, none of this has been especially easy for him. He's been an inspiration to thousands because Nick Newell's story is more than what he's done – it's also who he is.
You see, Nick Newell was born with one full-length arm. A congenital amputation in the womb stopped his left arm just down from the elbow. Referred to as the "one-armed fighter" for the entirety of his MMA career, he's accomplished feats that no one thought possible, except for his friends, family, coaches, and fans.
His retirement from the cage isn't the end of his story. At least not for him and his loved ones. Or for those he's inspired to see themselves as whole and capable no matter how they're born.
Before he goes off to be a television star, though, I wish he'd give his body a chance to heal for a year and then try another fight camp to see how it goes.
Because I'm a fight fan. And Nick Newell represents so much: overcoming adversity, sportsmanship and a positive attitude, the ability to be sensitive in "man up" kind of world. He's as dangerous as he is sweet. His enthusiasm in the cage, the surprise he brought to every fight, the champion heart, and a devastating rear-naked choke make him exciting to watch. I want him to keep going. To be the living proof that hard work can overcome adversity.
Because – like you – I'm a fighter.
Under the lights, in the cage, fighters like Nick Newell, overcomers, people of the grind, warriors, living poems dancing a science of rhythm and viscosity against every "no" of the mind or body, driven by a heart of desire, they are the analog. They are the raw version of our battles to stay afloat in the flood, to stay up when life – internally or externally – is trying to keep us down.
We're all fighters. And fighters are us.
Fighters like Nick Newell, young, hungry, struggling, coming up the ranks, earning respect one fight at a time, each with their own story, come alive on the pages of Doug Merlino's fantastically written, highly recommended book Beast: Blood, Struggle, and Dreams at the Heart of Mixed Martial Arts.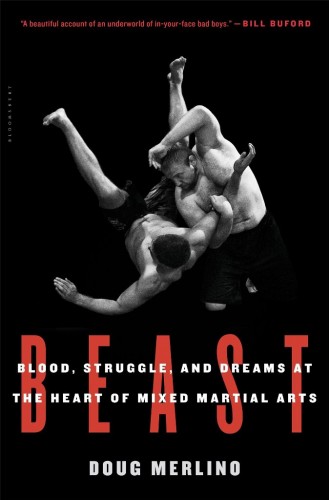 Beast tells stories most people would never know about fighters most have never heard of. These men are each tragic and iconic heroes of their own lives. Merlino's portraits tell the human story in all of its gutter and glammer and all the pitted macadam between. Each fighter struggles — sometimes against tremendous obstacles — for the glory of triumph.
And much like all of us, their greatest opponent is the face in the mirror.
Beast is not simply about sport or entertainment, though Merlino doesn't ignore those aspects of modern MMA and the UFC. It is more about the individuals, what drives them, and the struggles they have in and out of the cage. It's about the fighters' day-to-day mundane humanity and hope in all of their unglorified grit.
To write this book, Merlino gained unprecedented access to top level MMA fighters at American Top Team Headquarters in Coconut Creek. He observed them, listened to them, ate with them, travelled with them, commiserated with them, celebrated with them, and trained with them. He's a keen observer, an intent listener, and allows each fighter's story to unfold through well placed exposition, down to earth dialogue, and the everyday drama of their own lives.
Jeff Monson is the veteran, the hero of Russians nostalgic for the Soviet days, the never say never, no quit, tattooed anarchist fighting every fight he can take to make sure he can send money back home for his daughter. Monson is the fighter the fight media doesn't talk about much anymore. He's in his forties, way past his prime, his entire bodily frame wracked with pain, but he's still taking fights. He's the damaged fighter most of us, like Nick Newell, don't want to be. He's the one teaching us: know when it's time to change directions. He's the one who is stuck because he doesn't know any way out. And he's not looking for one.
[sc name="ad-300x600"]
Mirsad Bektic is the immigrant story. With coaches from Brazil (head coach Ricardo Liborio) and Iran (wrestling coach Kami Barzini), fellow fighters from Brazil, Cuba, Russia, and Sweden, he's not alone. Bektic is the emotional heart of this book. Self-critical, sensitive, but a rising talent in the cage, he self-motivates by reading, learning, listening to tunes, and dreaming of being a champion. By the time he gets a call to fight in the UFC, we're cheering for him.
Steve Mocco is the quiet wrestler struggling to make the transition to MMA. His story reveals the grooming coaches will patiently apply to prospects, as well as the frustrations of a smart killer on the mats who was a red shirt Olympian and champion in college but can't transfer that greatness to his MMA career yet. Merlino's treatment of Mocco is tightly wound around doubt. This lends power to the portrait, because Mocco works harder than everyone and doesn't have quit in him.
Merlino introduces Daniel Strauss early and we're glad of it. Strauss speaks his mind and his heart. His support system is dedicated to him, there for his fights, helping to keep him focused. He too needs money for a daughter. So if Bektic is the emotional heart of this book, Strauss is the other side of the same heart: the jaded yet still passionate cynic. Strauss's life is a mess he's always trying to clean up. Through his own actions, he keeps himself in the position of the underdog. Which is where he wants to be. After winning a Championship belt in the Bellator organization, the pressure of being on top is too much for him. When he loses his defense of the belt, he expresses satisfaction to Merlino. Now he has something to fight for again.
Merlino gives the reader the opportunity to know these fighters and coaches as regular guys from varied backgrounds with dreams of achievement, success, and fame, guys who are driven to sacrifice so much of themselves for a fight where anything can happen at any moment and usually does.
As the chapters switch narratives from fighter to fighter, with a couple dedicated to his own training and the hustle and flash of the fight world, I find myself wishing Merlino had featured at least one female fighter. American Top Team is home to Tecia Torres, a strawweight who's one of the most exciting new fighters to watch in the UFC. Currently ranked #5, Torres's portrait, her voice, could have allowed Merlino to cover a wider spectrum of modern MMA, where women are playing a larger role, thanks to Ronda Rousey.
Some of his best writing, though, happens when Merlino decides to get a taste of what it feels like to punch and get punched. The blind confusion, the fear, and the adrenaline dump take their toll, but nothing beats the feeling of surviving. And like many of us, this is what keeps him coming back.
The discomfort is the ultimate reminder of how alive you are. This is true for the fighters Merlino profiles, for his own experiences training, and for all of us fighting through the mundane whirlwind of every day life.
It's that discomfort, though, that can be too much.
Nick "Notorious" Newell retired because his body would not do what he was asking it to do. He chose to listen to his body and walk away from going through more tough training camps and weight cutting. The injuries cut into his training, which cut into his cardio, which meant his gas tank would reach empty too early in the fight. This is what he'd gone through his three most recent fights.
After his last fight, he gave some interviews, rested up, and took off with his girlfriend for a vacation in Costa Rica. In the pictures, he looks fit and gloriously jubilant.
And as happy as I am for him, there's still a part of me that wants to see him fight again.
Because I'm a fight fan.
And he's a fighter.
Featured image from Flickr.