"Darkness cannot drive out darkness: only light can do that. Hate cannot drive out hate: only love can do that." – Martin Luther King Jr.
Peace. Every individual has an opinion, whether based on personal reasons, religious beliefs, social pressure, or even brainwashing (political and religious). As I see it, there are two alternatives for achieving peace: the political governmental one, which the individual rarely has influence on, and the personal individual one, which each one of us has access to.
One of my favorite rules is: the only person you can change is you.
Change within us can happen regardless of religion or political allegiance as long as we are willing to let go of our preexisting biases.
On January 14th, I joined a group of women at the Daniel Hotel by the Dead Sea.  I was invited to participate by Life's Door-Tishkofet-Maagan-Gisha L'Chaim, an organization whose primary goal is helping patients, families, and professionals navigate through life-threatening illness with growth and hope rather than anguish, denial, and confusion. I was also asked to sign on to being filmed for a documentary about women from different cultural and religious backgrounds; women with breast or ovarian cancer and their accompanying family member or friend.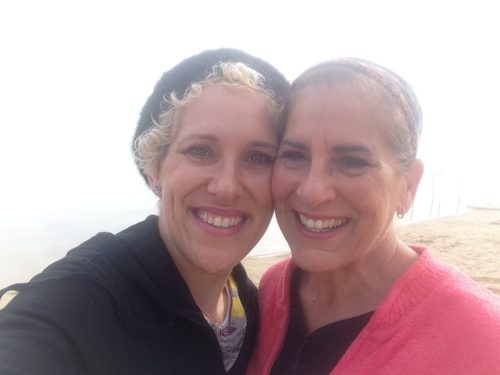 A vacation at a hotel by the Dead Sea and a chance to meet and interact with women from different backgrounds is something I knew I would enjoy. I was excited about the chance to include my mom as my partner on the retreat and looked forward to sharing a meaningful and spiritual experience together. I embarked on the next 48 hours and left my own preconceptions and national luggage at the door.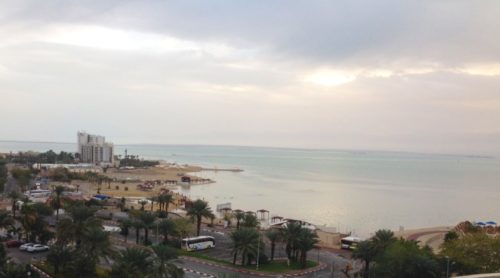 Our first meeting at the hotel was in a large circle. As I looked around the room, it became clear that my mom and I were minorities as Orthodox Jewish women. We were interspersed with a few other religious Jewish women, secular Jewish Israelis, and many women wearing hijabs (traditional Muslim head covering) and speaking in Arabic. We were accompanied by a full film crew with multiple cameras and sound men, Tishkofet staff and volunteers including social workers, spiritual guidance counselors, a nurse, and the founders of Tishkofet, Professor Ben and his wife, Dvora Corn.
Immediately after assembling, we met the woman who was responsible for funding the retreat and making the documentary. Presenting a grant from The DEAR Foundation in Switzerland, Sonja Dinner was introduced and she addressed every woman in the room as Heroes.
Sonja Dinner is the President of the Board of The DEAR Foundation. Their funding is focused on women in need and projects that promote coexistence. Mrs. Dinner explained her goals for this documentary. The film will spotlight women with breast and gynecological cancers and be distributed around the world, in order to educate and dispel shame or secrecy amongst women in the poorest regions, regardless of religion, nationality, color, or race. Sonja Dinner hopes that our participation together will empower women and enable them to prevent, screen for, and advocate better care for these cancers. Her message was presented in a respectfully non-political and inclusive way, promoting relations between all of our cultures within this troubled region.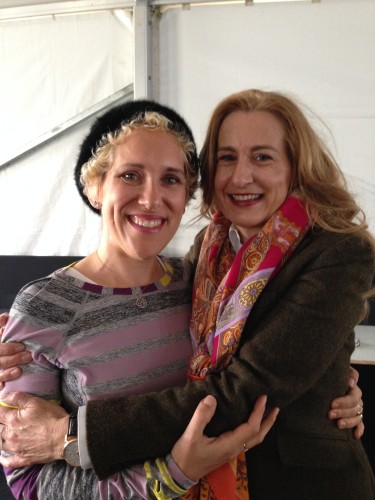 Communication was made possible by two translators who carefully translated every word into either Hebrew or Arabic.
Every woman participating was challenged to leave her politics and her prejudices behind. What unraveled and developed over the next 48 hours was a phenomenon I pray was captured by the cameras for the world to see.
Each cancer survivor brought her mother, daughter, sister, or friend. As we shared and discussed our journeys, I felt our exterior appearances fading into the background. The flow of emotions mixed in with our similar paths created a feeling of unity, and our group breathed life into an almost palpable energy. Each woman told her story and we shared very similar fears, hopes, and responses. The more each woman committed to sharing, the more our exteriors melted away and allowed us to draw closer.
On the first day, one of the workshops was run by massage therapist, Aviva Danziger. She gave a lecture on the benefits of massage and demonstrated different techniques on our volunteer nurse. After the demonstration we were asked to try out what we'd learned on our partners. I hesitated. While I wanted to enjoy massaging and being massaged by my best friend and confidant, my mother, I wanted to take the opportunity to engage with women I'd never had the chance to touch.I approached the translator and asked her to ask the Arab women in the group if any of them would be willing to let me try out the massage techniques on them.
That was the moment that I connected with, "S", who agreed to be my partner. She wasn't ready for me to massage her but she volunteered to try what we'd just learned on me. As I laid down on the mattress, I closed my eyes and felt "S"'s hands working on the knots in my shoulders and my neck. Her touch was strong yet careful and I felt relaxed. When it came time to swap places, "S"  insisted on massaging me again and I decided to flow with it. After we finished the workshop, "S" asked to take a photo together and that was a poignant and sentimental moment for me. It was the smile, the physical contact, and the acknowledgment of making a connection and friendship. Without a language in common, we shared touch and embrace, and the outcome of the moment was captured in this photo.
[sc name="ad-300x600"]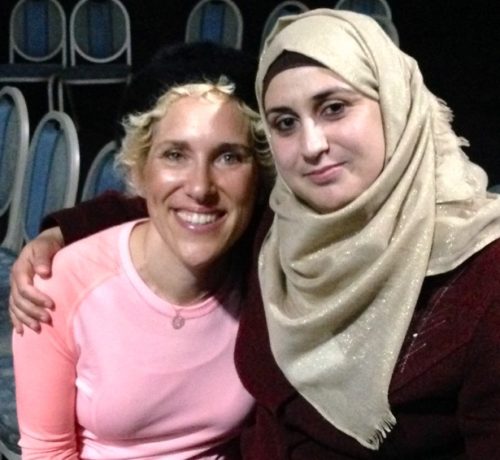 Earlier in the day, my mother and I connected with a Christian Arab woman and her daughter who came from Bethlehem. I recognized "J" and we figured out that we had both been in Shaare Zedek hospital at the same time. Both "J" and her daughter speak perfect English and being able to speak effortlessly without need for translators was an advantage. We laughed and danced together that evening as we learned the art of belly dancing accompanied by Arabic music.
That was the moment there was reluctance from the religious Muslim women to be filmed.  As long as the cameras were there, they sat frozen to their chairs. The reaction wasn't foreign to me because I am also very aware of preserving modesty in my own culture and community as an Orthodox woman. As soon as the cameras were removed, every woman seemed to let go and allowed herself to shake and move. The music played loudly and the movement of our bodies and our incessant laughter was our common language.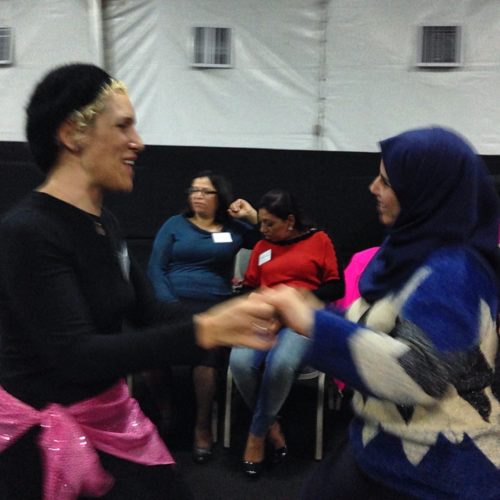 The next morning, my mom and I asked "J" to sit with us at breakfast. Another Arab lady, "H" and her daughter, "D" joined us at our table too. We chatted over our meal together. As regular polite friends often do, we kept to subjects that excluded politics. As individuals, there was nothing to keep us from engaging. We discovered how much we have in common and enjoyed learning a bit about our different cultures too. During our entire time together at the retreat, none of the participants mentioned politics or religion. We were just women – just being women together.
At one point a member of the film crew joined our table. During that chat I was jolted awake to our ongoing painful political reality because she felt comfortable and informal enough to say, "If you really want peace, please don't vote for Bayit Ha'Yehudi (The Jewish Home, a political party). While I sincerely cherish having met this sympathetic, peace-seeking, and likeable Jewish Israeli, her emboldened request and her agenda hurt me deeply. The sudden mention of politics deflated me like a punch in the heart.
I was voluntarily open and devoted to the process of the documentary and retreat. I never revealed a single political or religious sentiment to anyone and she made her request based solely on her own biases, which apparently included my physical appearance and the fact that I live in (infamously religious) Bet Shemesh. That was the only moment during the retreat that I was forced to address political questions about peace and how we can ever achieve it.
I'm dedicated to making peace as an individual because the only person I can change is myself. If I can leave my political beliefs and road blocks at the door and embrace Palestinian, Christian Arab, and Muslim women in the same way that I embrace Israeli and Jewish women surely peace is possible. When you take government and politics out of the equation, it appears so simple. Soon it would be time to leave and I'd be taking home some heavy symbolic luggage. How can we continue to build and connect with each other when reality takes us away from these protective walls, away from translators, and the freedom to mingle with women from Arab villages, Bethlehem, Jenin, and East Jerusalem?
For the final workshop of the retreat, my mom and I joined a workshop with Awtaf Avad, who leads groups based on Native American Talking Circles. The circle facilitates healing through listening, sharing, and learning from others' experiences. During the Talking Circle, our sharing with each other resulted in every woman reacting with emotional release and tears. It was the first time since my diagnosis that I truly mourned the loss of my womanhood and it came out while listening to one of the women share her own story. This process was healing and healthy, yet also physically draining. Later I felt  ill from the violence of those locked up emotions escaping and reminding me of the difficult journey I've traveled.
We packed our bags and prepared to say good bye. We assembled for the last time as a group: Israelis, Jews, Christians, Muslims, Palestinians together as one People; Women.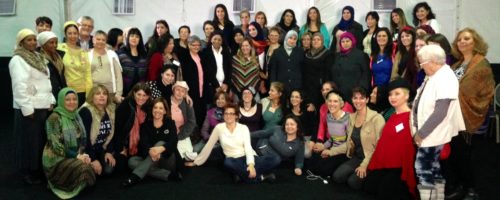 All these women, all these individuals brought their own light to the retreat and we were able to share it with each other. Whether by direct conversations, sharing our stories, through touch, smiles, and by looking at each other, we gave and received, and basked in the light of 48 hours of meaningful sensations.
I came away from this experience with an increased hope that I can bring light. I can increase justice. I can increase wisdom. I will continue to reach for the light and the light will shine back on me. I will continue to love and I will be loved.
The cameras continued to roll and capture us as we held hands and then linked arms in a circular and monumental embrace. Each woman gave a blessing to the group and I was most touched by the words of a woman across from me who linked her fingers together, imitating the flight of a dove, and wished peace on all of us in Arabic. There wasn't a dry eye in the room as the founder of Tishkofet, Dvora Corn, switched on the music and we all began to sway, hum, and sing, "We are one, we are one, we are one, we are one, we are one. We live our lives seeking for love, when all the love is within us." (Song credit: Ronit Shefi – We Are One)