I grew up all over the place, New Jersey, New York, New Mexico, Arizona, but my formative years really began in Southern California. I went to public school through 7th grade, and I was definitely not the coolest kid on the block. I can look back now and see what a quirky, enterprising kid I was, but back then, I suffered the anguish of failing to fit in.
I was active in 4-H (an American youth organization administered by the National Institute of Food and Agriculture of the US Department of Agriculture) and showed my goats, Suzy and Jodi, at the county fair. I did gymnastics and ballet and played the piano and flute. I could often be found, in my fantasy role as a gold medalist figure skater, roller skating around the "ice" of our driveway, in tights and figure skater apparel. I collected snails and cocoons. Mud was an accessory. When I was of junior high age, I still spent hours playing with dollhouses and figurines in my secluded world of reverie. While the cool girls were stuffing their bras and getting asked out to school dances, I was sewing dresses for Ken and Barbies' wedding or collecting tadpoles and bugs at "The Ditch" down the street.
My teachers raved about my potential and lamented over me not doing my homework or studying and I was grateful for that hole in the fence, at the side of the enormous school football field. I eagerly escaped before the final lesson of the day and managed, against all odds, to fail phys ed in elementary school and again in high school. I didn't care. That elusive, expected Potential was for prospectors and seekers of future gratification. I knew I could catch up when the future became my present.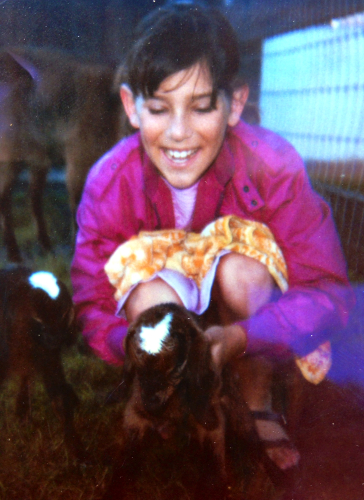 I graduated high school, served for two years in the IDF, and I got my act together for university in pursuit of a career in physical medicine. In my mid twenties, I discovered true love and marriage. I unfurled a mellowed petticoat and bundled myself in a softened view of myself in the world. I shook off some grit in contemplation of my growing love for everything pink and tender.  I still collect tadpoles and frogs with my kids. I still love goats. Spiders don't scare me and I still don't care about grades or hypothetical potential. To prepare for the future is to embrace the power of now and only now.
[sc name="ad-300x600"]
I've grown comfortable in my bubble I call Home. I'm a stay-at-home-mom with a quintessential degree in Physical Therapy to back up my ego when necessary; like when meeting a snarky career woman whose first of many personal questions is, "So, what do you do?" "What do I do?" from a stranger visiting Israel on a 3 week business trip apart from her toddler offspring back in New York. She didn't seem impressed with my day job title: Mother of Five. I didn't think I should stoop to describe my other occupation as Full-time Cancer Fighter which is just a conversation killer and reeks of dreaded pity stench. We're gaining on 2015 and what You Do (for a living) is apparently still a scale for how successful you are as a human being. Multiple degrees and letters after your name will automatically elevate your worth in certain societies regardless of any contribution to making our world a more loving or kind place and in my humble opinion, that's a huge problem with today.
I'm not cool. I don't want to fit in. I don't need to be materially accomplished, decorated with P's H's or D's,  fashionable or beautiful or proficient. I am a happy person even in this imperfect time we call, Now. I lead a merry life undeterred by a country drenched in turmoil and war. My soul still grows in spite of this Jewish time bomb whose ticks get louder with each added stringency versus assimilation and while each extreme struggles to conquer the other. I'll celebrate my 39th birthday on Friday and thank God for the opportunity to collect my first wrinkles, some sag, and a patch of gray hair. I will stand firm on my fragile bubble and raise my children at home in Israel. Life has meaning right now, while we are here and alive. The potential may be boundless but it has no value the second we take our final breath. Death will inevitably make us part of the past and our value and contribution are the memories of ourselves that we leave behind.
If I die tomorrow, my ends are tied up. I lived with love and faith every single day. I leave no projects undone and no regrets. Today I'm alive and the rest is all gravy. Who will remember that I had a degree in physical therapy or that I failed P.E. in high school? Was I kind? Did I change any lives for the better? What mark did I leave on this world… please let it be love, faith, and kindness. The rest is bounty.  Happy Thanksgiving and may we hold this thanks in our hearts and our hands every single day. Enjoy the gravy.