I volunteered to accompany my 7 year old daughter on her first grade field trip yesterday. I was almost as excited as she was. The two of us prepared our bags the night before, we planned what we would wear, eat, and drink. It was fun to feel the giddiness of: tomorrow we're going on a bus to an unknown destination in Rehovot! The note said to wear comfortable walking shoes but was unclear about the nature of the trip. Would it be a hike? Indoors or outdoors? I had no idea but we packed hats and plenty of drinking water.
I was only slightly nervous about being partially responsible for 32 six and seven year olds. I was mostly worried about feeling well enough to be out and about, possibly far away from a clean restroom. Suffering from cancer treatment nausea, feeling faint, and weak are not the worries of an average first grader. I did not want the school field trip to suddenly be about my daughter, H's mommy collapsing on a path or vomiting into a barf bag on the bus.  Deep, deep breaths, and Pramin (an anti nausea medication), and I probably would've enjoyed some earplugs for the bus but then I would have missed out on all the singing and jubilee.
H was so proud and excited to bring her mama on her first official school field trip.  I was about to embark on a day of appreciation of innocence and patience-pushing that would leave this grown up wanting to petition for doubling teacher salaries.
There is a lot of preparation and coordination required to take two classes, totaling 64 first grade girls, out of school and on a bus ride to another city! Check and double check that every child has a hat and enough water. Check and double check that they all went to the bathroom and still spend the whole day taking them to and from the bathroom, and still have two girls needing the toilet half-way through the bus ride; each way. The most important task of the day was making sure that we didn't lose anyone. I thought I felt nuts counting my 5 on family outings yet keeping track of 32 girls in my daughter's class was a little more challenging and entertaining. Imagine being a full-time teacher to these amazing creatures, not only needing to keep them safe and sound (and dry) but teaching them how to read and write and crunch numbers? Teachers are gems.
We visited an outdoor museum called, Minkov Orchard, tucked away on the outskirts of Rehovot, memorializing Israel's first citrus industry which was established in 1904. Some of the most famous members of the Second Aliyah worked there including: the poet Rahel, A.D. Gordon, Yosef Haim Brenner, and many others. The orchard continued production until the 1960s when modern technology made it too costly to maintain. We learned about different citrus fruits, picked clementines, made fresh juice and pita bread, rode on a little train, learned the history of the Jaffa Orange, and decorated paper crowns. Our guide, Oshra, a young grandmotherly type, had such immense patience, I was compelled to hug her at the end of the day. I spend many lively hours with my kids daily and we are a relatively disciplined gang. I'm strict about safety and adhering to the rules. I'm also pretty blessed to have kids who acknowledge and oblige most of the time. Expectations and executions are a wee bit more relaxed on a school field trip with 64 six and seven year old girls and it was charming. Children at this age are excited about everything. The greatest thrill for them was getting to bring 2 treats each on the trip and there was even a specifically allocated time slot for eating those treats. There were spontaneous cartwheels, plenty of dirt, and we had to remind the girls to finish their lunch; many, many times. Why? Because Teacher said so.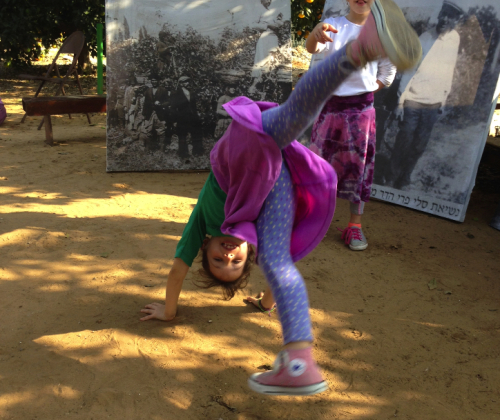 I found myself welling up with tears several times. It's emotionally enhancing to spend hours with enthusiasm and curiosity multiplied by 32. Innocence of youth is sparkly and shining. The moments of joy were magnified by the 7 year old view of the experience. The bus ride back to school was that much quieter. Several girls needed to be awakened in order to disembark. I too might've drifted off for a few minutes. It's invigorating and magical to be a first grader, even just for the day.
When we returned home, it was back to the carpools and the after school activities. No time to rest and recuperate however the busy world of young children is shiny and sparkly. It's a place where spontaneous cartwheels happen and getting dirt under your fingernails is fine. A manicure is a 5-colored cuticle decorating session and impromptu paper puppet shows happen right before dinnertime; maybe during dinnertime. Kids always want to play, never want to finish their dinner, and always want to stay up later. I, on the other hand, don't always feel up for games, I finish every last crumb on my plate, and only wish I had the discipline to put myself to bed at a decent hour. It was either before or after dinner, I don't remember, and suddenly, 4 year old, E, presented me with an impromptu, homemade, paper puppet show. I dropped everything to watch. The puppet show led to singing and then dancing. Just E and me twirling in the living room shaking and moving to the lyrics, shine bright like a diamond, shine bright like a diamond. I dipped her and E told me, "do that every time she sings, beautiful like diamonds in the sky, " and that's what I did.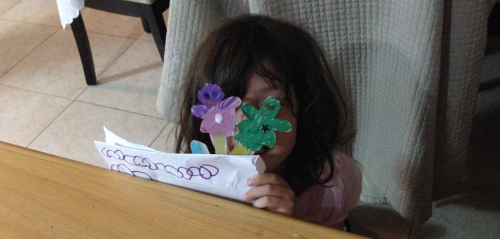 Diamonds is a song recorded by Barbadian singer Rihanna for her 7th studio album, Unapologetic. Written by Sia Furler together with producers, Benny Blanco and StarGate. It's a favorite in the Lange household and almost always inspires dancing.
Shine bright like a diamond
Shine bright like a diamond
Find light in the beautiful sea
I choose to be happy
You and I, you and I
We're like diamonds in the sky
You're a shooting star I see
A vision of ecstasy
When you hold me, I'm alive
We're like diamonds in the sky
I knew that we'd become one right away
Oh, right away
At first sight I felt the energy of sun rays
I saw the life inside your eyes
[sc name="ad-300x600"]
So shine bright tonight, you and I
We're beautiful like diamonds in the sky
Eye to eye, so alive
We're beautiful like diamonds in the sky
Shine bright like a diamond
Shine bright like a diamond
Shine bright like a diamond
We're beautiful like diamonds in the sky
Shine bright like a diamond
Shine bright like a diamond
Shine bright like a diamond
We're beautiful like diamonds in the sky
Palms rise to the universe
As we moonshine and molly
Feel the warmth, we'll never die
We're like diamonds in the sky
You're a shooting star I see
A vision of ecstasy
When you hold me, I'm alive
We're like diamonds in the sky
At first sight I felt the energy of sun rays
I saw the life inside your eyes
So shine bright tonight, you and I
We're beautiful like diamonds in the sky
Eye to eye, so alive
We're beautiful like diamonds in the sky
Shine bright like a diamond
Shine bright like a diamond
Shine bright like a diamond
We're beautiful like diamonds in the sky
Shine bright like a diamond
Shine bright like a diamond
Shine bright like a diamond
We're beautiful like diamonds in the sky
Shine bright like a diamond
Shine bright like a diamond
Shine bright like a diamond
So shine bright tonight, you and I
We're beautiful like diamonds in the sky
Eye to eye, so alive
We're beautiful like diamonds in the sky
Shine bright like a diamond
Shine bright like a diamond
Shine bright like a diamond
Oh, yeah
Shine bright like a diamond
Shine bright like a diamond
Shine bright like a diamond
Shine bright like a diamond