For some families, it might be a regular occurrence. Not with us. Although it was dreamt a hundred times, it has never happened.
We are in Israel for Sukkot and my husband's entire immediate family has gathered together from across Israel and overseas. Three generations – all five siblings and their husbands and wives, all their children and of course, the patriarch of the family, my father-in-law. We gather for a family portrait, squishing into frame. Only one person is missing… although her picture hangs prominently on the wall.
My mind wanders. I remember another holiday about five years ago, Pesach, spent together with my husband's family in Israel. My mother-in-law came with boxes of cookies and trays of cakes she baked for our Shabbat together. She watched us with bright, round eyes as we took bites of her food. "Taim, nachon?" She loved to bake and cook. And host. She boasted most about being able to make delectables out of anything ("I even made jam out of watermelon peels!") and if you ever wanted a recipe for one her dishes, she looked at you quizzically- it didn't exist. She always had this one look on her face as she watched you eat her food that was unmistakable: she couldn't wait to hear how much you loved her food… She couldn't wait to make you happy.
Her children gave her the most joy. She looked at each one as though he or she was the best and brightest the whole world over, a spotlight of pride and glee shown from her eyes as she gazed at them. I absolutely loved watching her face as she gazed at my husband… But there was also my pain in knowing that I could never look at him the same way.
I never felt comfortable calling her Sima like others who married into the family. "Ima-Sima, eich ze?" I had found a middle ground. And it suggested closeness, which I craved. It even rhymed! She laughed (in an at-me kinda way).
My relationship with her was not particularly close. There was a mutual respect. A sincere caring. And at times, even a hint of affection. But somehow, there was a bridge I could not cross, as hard as I tried. She was the quintessential sabra. A life of struggle had hardened her and a witty, sarcastic humor her most notable armor… Most of the time, I couldn't keep up.
Finishing up our snacks of her homemade cookies and the requisite (most definitely in Israel) afternoon coffee, we headed outside. I had convinced my husband's family to do family portraits, coordinated outfits and all, taken by six-month-pregnant me. We took dozens of photos, lost track of time and didn't do our last minute shopping before Shabbat. With only a small handful of fresh vegetables, my mother-in-law and I were charged with the task of creating a variety of salads that would satisfy this hungry crowd (have you ever been to a Sephardic Shabbat table? Less than ten salads is a travesty).
Standing side by side confronted with this challenge – with only a half a cabbage, about three cucumbers, one pepper, some basil, an onion, lemon and spices – we concocted delicious, rich salads that belied their simple and few ingredients. We worked together as a creative and resourceful team. I marveled at her ingenuity. She took my suggestions and excitedly tasted my food. Together, we eyed the family as they ate our creations, "Taim, nachon?"
Standing at a kitchen counter together, working on the same goal, something in our relationship profoundly shifted… Somehow we connected.
I started to call her Ima… And she did not laugh.
About a month after we returned home after Pesach, my fifty-four year old mother-in-law fell on her way up the five flights of stairs to her apartment of 35 years. At first the doctors assumed it was a small stroke… But it was not. My mother-in-law had two inoperable tumors in her brain. She was diagnosed with Glioblastoma Multiforme, GBM, the most ferocious and ruthless of brain cancers.
She died eight months later.
Although my husband repeatedly traveled to Israel during that time to visit his ailing mother, I never got to see her again. Only through conversations via Skype did we continue to deeply connect through the last months of her life as she morphed into another person, riddled with chemotherapy drugs and steroids, the effect of the growing tumors more and more evident. Gone was the hardened sabra. Gone was the sharp, funny, tough woman, so fiercely independent and strong (though she did emerge at times. She would never be completely beaten down by anything). In her stead was a soft, gentle woman, oozing love and tenderness, a person unabashedly vulnerable, in agony and afraid.
Nothing was more painful to watch.
There are things that I remember from that time. Our conversation at her kitchen sink just after she was diagnosed, family and guests in her home for dinner, her perplexity at feeling a bit slower in the kitchen… her rhythm in kneading the pita dough a little bit clumsy, a bit out of tune.
Her voice as she comforted my husband through my contractions during labor and her glowing face on Skype just a few moments after I gave birth to my third child, cradling her against my chest in the birthing tub in my bedroom at home. "Mazal Tov!"
My husband's birthday and his pained conversation with his mother, her painstakingly singing him yom huledet sameach, barely remembering the words, but still gazing at her son with unbridled love.
[sc name="ad-300x600"]
Telling her over and over again how much we all believed in miracles. That she was stronger than any disease in the world. That absolutely, most positively, we would prevail.
Thanking her, while I believed she could still understand me, for raising the beautiful man who was my husband, the father of my children… How badly I wanted her to know that I appreciated the mother she was, how much her children's success was absolutely due to her strength and sacrifice.
And that Sunday morning, the first day of Adar, when I had to tell my husband through clenched teeth and hot tears that his mother had passed.
So many more memories that I guard like smuggled gemstones in my worn purse, taken out and caressed when I want to feel rich.
On Erev Sukkot, a couple hours before sunset, we go to visit her grave. My older two children, who remember her vividly, collect rocks and place them gently, decoratively, on the stone. They stand next to it, each talking to her in their own way… A whisper on the grave, a story shared with zeal and effect.
I read the inscription on the tombstone aloud, "Here lies our daughter, our sister, our mother, our grandmother, Simcha bat Shlomo." I turn to my husband, "Why doesn't it say 'חמותי', 'our mother-in-law?'" I am not satisfied with his response. It wasn't fair.
My mother-in-law had a particular dream she loved to dream: All her children together, in Israel, celebrating the Chag. All her grandchildren together in one home, eating her food, listening to her stories, bouncing on her knee. It was a dream she shared over and over and over again, her eyes lighting up the same way as when she beamed at her children.
And here we are, all of us including three new grandchildren called Simcha for her name, gathered for the first night of Sukkot at my sister-in-law's home in the North of Israel.
We have finally made her dream come true.
As we gather for the family photo come I notice that picture of her I took of her years ago on the beach, on the day we bonded over salads and stories, hanging on the wall.
There is no denying the pain of living someone else's dream when she is not here to bask in the pleasure of a vision realized.
Yet in some way, she stands witness to this.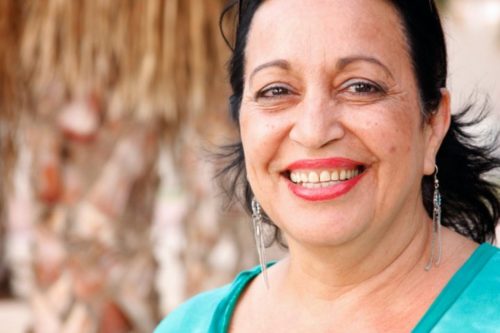 There are those relationships, those roles that people fill, that once left vacant, no one can replace. Like missing pixels in a picture, there only remain holes and gaps in our lives that cannot be patched up- they only become emphasized over time.
Yet somehow, the tapestries of our lives do not unravel. They somehow remain intact, an interconnected web of people, relationships, bonds and secrets shared.
Somehow, amidst all the loss we endure, we continue to live, love and breathe.
Somehow, we find the courage to join a larger portrait of life; in it, every pixel is a dream of our own or of another's… And the dream is actualized.