There is one mention of the word "tzohar" in Chumash, in the parsha Noach. Rashi explains that it has two meanings: 1) a window to let light in and 2) a gem from which light shines outward. This double meaning is the metaphor underlying the name of the revolutionary seminary in Pittsburgh, Tzohar, graduating agents of change.
For 12th grade Chabad high school girls, this time of year – right before the International Chof Beis Shevat Women's Convention in Crown Heights – is full of mixed emotions: excitement and dread, hope and trepidation, or ambivalence and anxiety. It is over this weekend that, besides attending all of the planned activities, speakers, and farbrengens, they will be interviewing with seminaries from all around the world. By now they've picked which seminaries they are applying to. They've filled out the paperwork, stuffed the envelopes, and mailed the applications with appropriate checks. This is the pre-planned routine. Executed like clockwork. Many of them have been expected to go to seminary upon graduation from high school since they were old enough to blink.
One of those seminaries is fairly new on the scene. And because of its mission, it is this one particular seminary that gives me a singular hope for the future of creativity in the frum world.
I first became aware of Tzohar Seminary for Chassidus and the Arts when Amy Guterson, the founder and director of the school, visited my school, the Rohr Bais Chaya Academy (RBCA), a Chabad Lubavitch girls' school near Coral Springs, Florida. She came to talk to the seniors five years ago about this new seminary she was starting and I was fascinated by the prospect of a creative option for some of my students who didn't necessarily fit the mold it seemed many of the other seminaries in Israel, Italy, and Australia were looking for.
Now in its fourth year, Tzohar continues to flourish. In fact, no less than 8 of my former students have attended the school and have come away from the experience full of glowing words for the program, teachers, Amy, and Rabbi Herman, the principal.
Last week, Rabbi Herman was scheduled to speak at my school. With Chof Beis Shevat around the corner, it seemed like the perfect time to reach out to Amy Guterson and find out more about Tzohar for readers of Hevria.
Little did I know what I was getting into.
Amy Guterson is a whirlwind of enthusiasm. With a background in acting, screen writing, and film, her energy is infectious. As soon as we were in touch and she understood what I wanted to do, my inbox was inundated with letters from former students and many of their parents. Images of student works, videos of their short films, and offers for more were coming in by the minute. With a wealth of material, multiple conversations with Amy, and spending some time with Rabbi Herman, I am now practically an expert on Tzohar. And while I once was interested, a fan even, now — especially now that my daughter is quickly getting older and the next five years will go by in a flash — I am most definitely an advocate.
Have a daughter who's a creator?
I. Meet Amy Guterson
Actress, director, activist, teacher, and revolutionary thinker, Amy Guterson realized the need for a Chabad seminary for Chassidus and the arts after years of struggling between the two worlds of acting and yiddishkeit and being involved in such groups as Kol Isha, a Jewish all female for females acting troupe, and ATARA, of which she is still a founding member of the board. She'd already realized that there was no need to separate the two, but now, with her own daughter coming of age, she knew there existed a need for graduating girls to be able to continue learning yiddishkeit while also able to hone their creative leanings.
Tzohar is Amy's shlichus. Scratch that. Tzohar is the vehicle for Amy's shlichus. Her students, the girls, they are her shlichus.
"They grow and grow," she says. "They are full fledged adults when they leave. And they are leaving as agents of change. Artists, future teachers, community leaders. Some want to start schools of their own!"
The school prides itself on having different learners, all of whom are at the very least interested in the arts. "Tzohar Seminary is about teaching the girls to use their talents to express what they learn in Torah and Chassidus. The act of creation, creativity itself is holy," she says. "Artists are receiving something. Where is that coming from? Tapping into that, learning to listen for that. Crafting, listening. So art is a collaboration with Hashem. When we're focused on kedusha, the art will be holy. Man's goal is to show what's under the surface. This is what our girls are doing."
"The arts are a vessel to express light, holiness, meaning, and purpose to the world," she continues. "The artist herself is a vessel. We work on developing that vessel in its uniqueness at Tzohar."
 II. Rabbi Aaron Herman
Over 70 girls in RBCA's shul are completely enthralled. Moving with every word, darting yards one way and then another, motored by the words and concepts he's giving over, Rabbi Aaron Herman takes up much more space than his slight stature should. He fills the room. And my students drink in every word.
Here's the key to knowing a speaker in front of high school girls is doing a great job: no one gets up to "go to the bathroom."
Rabbi Herman is talking to these girls about the eternal question, "Why do bad things happen to good people?" My students are engaged, responsive, and intrigued by Rabbi Herman's humor, his rhetoric, and his whirling dervish momentum. During his discussion – and it is more a discussion than a lecture – he references Chumash, gemmarah, Chassidus, philosophy, and even pop culture.
It is no wonder that he and Amy Guterson found each other and have succeeded together in making Tzohar the kind of seminary it is.
He believes that the special mission that Tzohar Seminary has is that their students are encouraged to ask meaningful questions. What makes me special? What are my inborn talents and what is the best way to develop these talents? What ideas and experiences have shaped my life and what is the best way to share these concepts with others? How can my personal contribution enhance the Jewish community and the world-at-large?
And they answer these questions through study and in their art.
He tells the girls, "Seminary in Israel isn't for everyone. And, in fact, Tzohar isn't for everyone. If you are looking for a seminary to immerse you in Chassidus, in learning and learning how to learn so that you can always learn on your own or with a havrusa, then maybe Israel is for you. But if you are looking for a place where you can learn, where you can steep yourself in learning with a purpose to apply what you've learned, to express and interpret what you've learned through writing or music or dance or singing or acting or art, then Tzohar is for you."
III. The Curriculum
We should all start our days with Morning Pages. The students of Tzohar start their learning day filling three pages of their journals with whatever is on their minds. For mindfulness, for meditative clarity, for focus, for practice, for expression, or to work on something already started. As soon as Amy told me about Morning Pages, I wanted to add it to my own seder.
After that, the first half of their day is filled with classes in Chumash, Chassidus, Tanya, Sichos, Hashkafa, Halacha, and more taught by Rabbi Herman and other local rabbis and rebbetzins.
The second half of their day, girls are studying writing, film making, screenwriting, animation, art, music, and dance.
But the days are not always so evenly split. Oftentimes, because of the nature of the program, there is a mixing of the dual curricula.
Living in the midst of the very welcoming community in Pittsburgh, the girls are also very active outside of the regular class schedule. For example, they run clubs (theater, creative writing) for the local Chabad school girls, and they visit senior homes.
The arts teachers, most frum and all practicing and teaching in their fields, come from the University of Pittsburgh, Carnegie Mellon, and Chatham.
[sc name="ad-300x600"]
IV. Students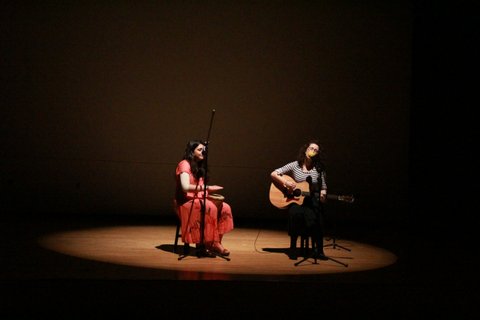 As soon as I told Amy Guterson that I wanted to profile Tzohar on Hevria, my inbox filled up with emails from former Tzohar students and even parents. Below is a selection of what they have to say about their experiences.
Basya F.: "One of the things that I appreciate most about Tzohar is the true manifestation of the Torah that is visible and felt by all within its walls. From a young age, we are all taught that R' Akiva said, 'Viahavta Lirayacha Kamocha Zeh Klal Gadol BaTorah.'
Love is the point of the Torah, and if something is not being done out of love, it is important to question if it actually goes along with what G-d had in mind when He wrote it.
Tzohar is all about love. The validation of each individual's questions, no matter how big or small — that is love. The acceptance and encouragement of each girl's unique and important journey in life — that is love. The lack of ego present in those who run the school — their unwavering dedication to forming a specific, need-based program and schedule for each girl separately, with no complaints or cringing — that is love."
Rosie K.: "When I first came to Tzohar, I had many questions about religion, life, love, and Gd. And I wasn't made to feel like there was something wrong with me. On the contrary, they showed me that questions enhance and strengthen your relationship with Hashem, the people around you, and your Rebbe. I was taken under their wing and transformed through finding myself in Chassidus.
I think in many ways the world is changing. The nature of youth is to understand, to be passionate, and to make things personal. Tzohar understands that vision and brought out a light in us that wants to burst out and be shared with others. It's a catalyst for the birth of many new leaders that will transform the world as we know it."
Naomi's parents: "Halacha within the arts is vital to the ability to present the materials created according to Jewish law. . . Who is better to teach the skills of writing than an author?  Who is able to share their method of writing Jewish Children's books, than the author and illustrator?  Who can teach the skills of making a Jewish video better than the creator of a Jewish video?  The girls are given the very best in guest lecturers. . . Whether it is a book, video or movie, music, paintings or any other art form, we need to have the creators trained professionally to be able  to preserve our religion and heritage. Our daughter thrived in that environment, which  allowed her to be herself, provided instruction in Judaic subjects at an appropriate level, and guided her towards expressing her learning through her art. The faculty and staff are dedicated to the students. The chesed assignments they are given integrate the girls into the community."
Freidel S.: "I learned how to self-motivate (mostly cuz I had to — being an art school with fellow art students, it can be easy to fall into the "tomorrow" trap). I also learned how to stay focused even when everyone around me wasn't. And I learned that every single human being has the most important mission, and to value people and what they have to say accordingly."
Chana C.: "I learned more at Tzohar than I had ever hoped to from any seminary, and everything we learned we learned with great depth, because we were allowed to.
Having finished seminary, I am now studying a Bachelor of Digital Media and 3D Design because I love animated movies and because there are more ways of doing shlichus than by opening a Chabad house. Tzohar has helped me see just how important a person's gifts are, but it also taught me that what we are lacking as a community are not talents: it is the willingness and determination to use them."
Rosie and Mushka K's mother: "I knew my daughter (Rosie) was having a year of true growth both spiritually and in her talents in music, poetry, and art but I didn't know the extent of it until I went at the end of the year to a mother/daughter event that Tzohar organized. The girls presented a play to the community of Pittsburgh. . . Incorporated in this show were all the arts they had explored throughout the year. I was blown away. My daughter really went to the seminary to explore her artistic talents and made a beautiful art piece reflecting her growth there and applied the art to Chassidus, which my daughter Mushka has now just completed, too, a beautiful piece!  She not only discovered that art is something she loves, but she really got to explore poetry, too, and wrote some beautiful deep songs that she performed with the guitar together with other girls."
Ester E.: "Throughout high school I was on a consistent downward spiral in all aspects of life. I wasn't going to submit myself to a traditional seminary. I had never gained anything from Torah learning before. . . But I had my art, my writing, my creativity. And then I heard there was a place that could finally nurture these parts of me.
Tzohar seemed to grab me and scream to something inside of me. Wait! What about meaning? What about all the questions I needed answers to? What about all these thoughts circling my mind that didn't seem to connect to the "real world"? What about the words I put to paper day after day? What about meaning?
Tzohar forced my downward spiral to stop and [forced me to] take a good look at [myself] and what [I] was really searching for. What Tzohar did for me has everything and nothing to do with religion. And it had everything to do with my individual soul. I gained a lifetime of knowledge and wisdom in that one year."
V. The Art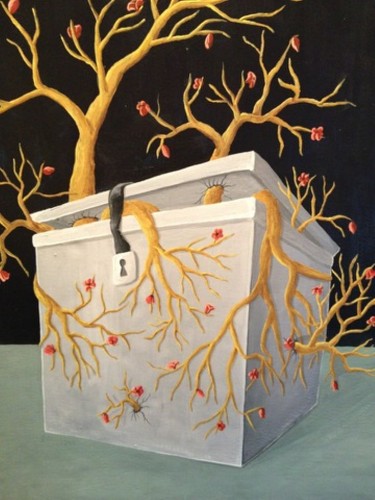 The featured image above is just one of many pieces Amy Guterson sent via text and email and Rabbi Herman showed at RBCA. It just so happens that it was painted by the sister of a former student of mine. Esther Adler describes the piece, titled Boxed Out, this way: "We tend to feel stifled by our boundaries, yet without them, we are frozen by the endless possibilities. A potted plant needs to be contained in order to grow. Similarly, our infinite soul is boxed into a rigid body. Our lifestyle is ordained within the parameters of Torah. And it is through these boundaries that we can live a meaningful and blossoming life."
Below I've embedded a couple of short films, examples of Tzohar students combining their learning and their expression.
◊♦◊
That a place like Tzohar exists brings me so much joy. Creative Chabad girls, like many of my own students, now have an option where they can develop themselves in holiness through their art. They do not have to choose to sit out of the dance.
They can dance.
And they have. Students of mine who have gone to Tzohar have flourished. One of them has started a family and is using her talents she developed in Tzohar to run her own face-painting business that serves her own community and beyond. Another is in film school. And still another continues to create and now mentors other creative frum girls to express Torah and Chassidus through their art.
Ultimately, to think that my own daughter will have this choice when the time comes is a blessing for which I will always be grateful.