From the moment I met Sarah in a downtown NYC bar, I dreamed of going on an adventure with her. We share, not only a birthday, but also a deep love for all the complexities of humanity. There's a spark in Sarah's eyes, the kind of spark that you want to set aglow by telling her the most wondrous story or taking her to the most magical place. But…. Sarah doesn't need to be taken anywhere.  She tells her own stories, makes her own magic. And, in her book, Jerusalem Drawn and Quartered, she does both.
Jerusalem Drawn and Quartered is a memoir, a guidebook, a deeply emotional journey that twists and weaves through Sarah's personal history and that of her beloved city. Sarah's stories begin in Los Angeles or Tel Aviv or the tiny kibbutz she once called home, but always, always they end in Jerusalem… on top of golden rooftops or deep within the maze of the Muslim Quarter.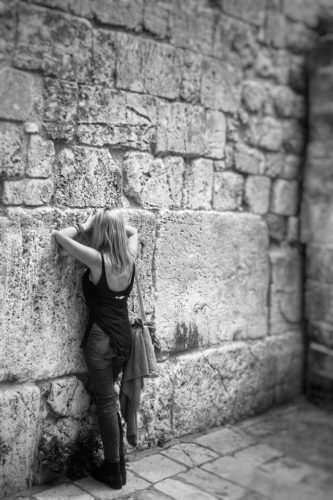 But, Jerusalem is not merely the setting for her journeys. Just as the Grey Man and the Rainbow Woman, Jerusalem is a character in her story. And, as all well-drawn characters, she is complicated and layered with elements of light and darkness that both illuminate and cast haunting shadows. Shadows which Sarah welcomes and explores without fear.
It is that lack of fear that colors every page of the book. Even when her wanderings take her through shady detours, even when she is stoned or harassed or judged, Sarah keeps coming back to the city of her soul with her eyes and heart open.
And, Jerusalem rewards her for her bravery.  The city opens up to Sarah, revealing its colorful veins and throbbing heart. It presents her with opportunities to learn and grow and understand a fiery history of bloodshed, longing, and a love many have deemed worth dying for.
And she, of course, being the adventurer that she is… takes every opportunity offered to her.  She befriends the Armenian man who scrolls through his phone during the siren for Holocaust Remembrance day, the Muslim Map Seller who dreams of the temple being rebuilt to bring more tourists and bolster sales, even the stray kitten who gets wedged into a pipe.
Through these relationships, she paints a different picture of Jerusalem than many of us are used to hearing about.  A city that is not divided in black and white lines, but painted over with a million colors that weave in and out of each other creating a tapestry as intricate as the smuggled Syrian fabrics Sarah and her children admire in the Old City.
[sc name="ad-300x600"]
To read Jerusalem Drawn and Quartered is to view the city through Sarah's eyes. To mourn the missed opportunities of watching Jewish and Muslim children playing side-by-side, but never together, to celebrate the unity that comes with rescuing a tiny kitten, to hear the anger and despair and precious hope in the voices of the shopkeepers and artists and everyday people who live there.
But, the book is not just about the people of Jerusalem.  It's also about Sarah herself.  Sarah, who is just as fiery, just as passionate, just as layered as the city she so loves.  Each page is a revelation of her history: of the complicated relationship she had with her terminally ill mother, of the insecurities and fear that kept her with her abusive boyfriend, of the deeply maternal bond that binds her to her children, of the desire that led her to Tinder to find love, of the bravery that urges her to confront the hotel manager who assaulted her, of the free spirit that inspires her to climb rooftops and talk to strangers and fly past tropes of American tourists with her blond hair streaming behind her dramatically.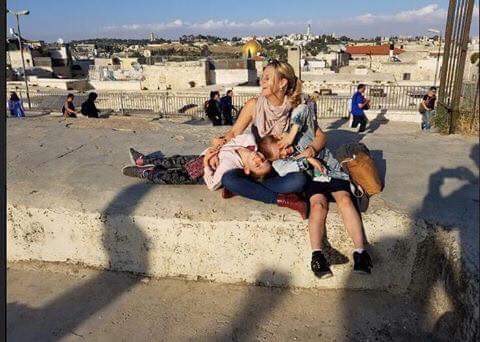 I do hope that one day I will be lucky enough to go on another real live adventure with my dear friend, Sarah.  But, through her book, she has given us all the opportunity to let her guide us through one of the greatest adventures of all… one that takes us deep into the heart of both Jerusalem and Sarah herself.