Sara Erenthal has devoted her career to giving art to the community.  Click here to contribute to her Gofundme campaign to help her continue enriching us with her uplifting art.
What responsibility does the artist have to the community?
This is a question that I've been thinking about a lot recently as my writing career has grown.  It was with that question in mind that I video conferenced with Sara Erenthal as she sat in a cheerful coffee shop in Tel Aviv.
Sara is a Brooklyn-based artist whose murals and studio work are often referred to as "inspirational" and who has deeply affected audiences, many of whom have suffered trauma in their own lives.  I wondered if Sara was intentionally using art to help the community.
"It is very rare that I create art to be political. My work is super personal.  But, simply by sharing my story, I have become something of an activist in the ex-Orthodox world.  Everything I create comes from that world, because it's who I am, where I came from." Sara answered.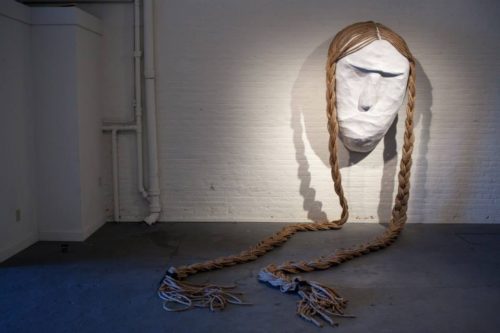 Sara was raised in an ultra-Orthodox home in Boro Park.  When she was 17, her family moved back to Israel.  They arranged for her to meet with a prospective husband.  But, the night before she was supposed to meet him, she ran away from home… leaving behind both her family and organized religion.  A few years later, after traveling and finding herself, she began creating amazing works of art, both on the streets, and in galleries around NYC.  In each piece of her artwork, there is vibrancy, intensity and depth of emotion. Although she has been very successful in fine art galleries, many people know her from her work as a street artist.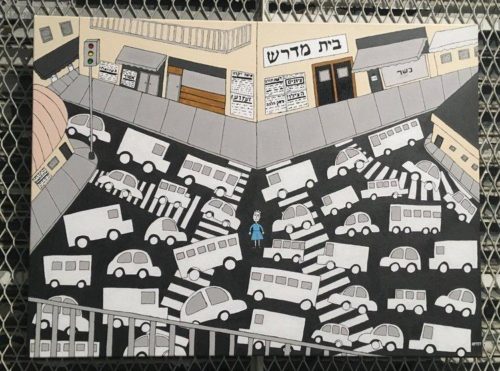 "I've always been interested in art in public spaces.  It makes art accessible to everyone.  A lot of art is in institutions and buildings and galleries, which can be intimidating to some people.  Not everyone thinks about going to see art, but when it's on the street it can affect them. Brighten up their day. It also brightens up neighborhoods. Brings color, something to look at when you're going somewhere.
Another great thing about street art is that it creates community.  People can connect over art in public spaces. When you're doing street art, someone might stop to talk to you, then another day someone else might, then another person. It's a communal act.
I spend a lot of my time as an artist giving to the public. I do a lot of upcycled trash art and basically give my art away.  Not because I'm expecting anything back.  Just because it feels good to contribute."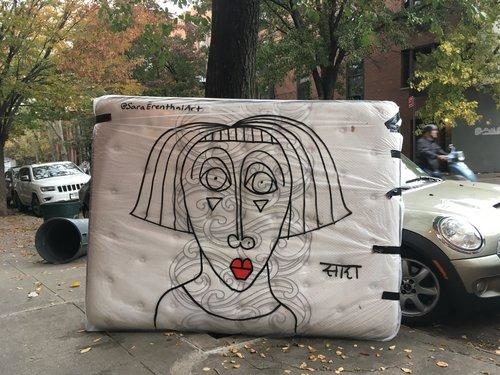 [sc name="ad-300x600"]
Her answer brought me back to the question that has been on my mind.  Sara could have easily built her career exclusively on gallery work, but instead, she chooses to spend time doing street art to enrich her community.  I thought about all the people whose days have been brightened by her murals, all the women who may have taken inspiration from her story of resilience, all the lonely people who have been brought together while admiring her work. I wondered if Sara felt that same question about the artist's responsibility to the community that I've been wondering about.
"When I started my career, I was working just for me purely.  Over time, when I started working more in the street, I realized it affects people.  So, it became not just about me creating art to help myself, but about helping people. It turned into a bigger mission for me.  I started to feel like now I have a responsibility to help people, so I need to make sure to push myself even harder."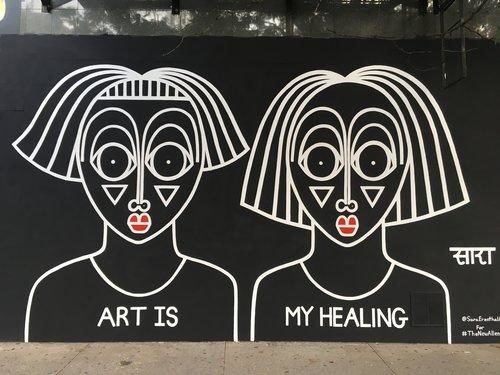 That's exactly what she's done… working long hours in her studio and on the street, interacting with the community and traveling to share her art with people around the world.
A few weeks ago, Sara left for a month-long trip to Israel.  While she originally came with vague plans to fulfill some personal goals, expand her audience and create a few murals, a whole world of opportunities has opened for her.
"A lot of my art is very motivating and positive and I was hoping to bring some of that to the streets of Israel also, in the hopes of touching people here. I didn't have a lot of money, or concrete plans. I just knew that when I got here I was going to hit the streets and get as many murals up as I could.
But then… a week into being here I was given an opportunity to have a showing at a gallery and of course I said yes. And then more opportunities began popping up. It's changed the whole trip.  I've been networking and I've gotten asked to do murals and so many possibilities… even to make a giant mural in the central bus station in Tel Aviv.  Last weekend I had a giant feature in Haaretz which has already brought more opportunities my way."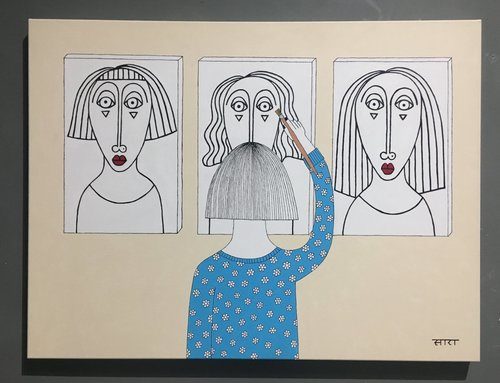 Sara's eyes sparkled as she talked about all the new projects she's been offered.  I know that joy.  It's the same joy I feel when someone tells me that something I wrote touched them.  It's the joy of creating and of seeing your creations take on a life of their own.  It's the joy of giving.
I'm still not sure whether or not it is our responsibility as artists to give back to the community, but I know that there are few things that are more motivating than feeling like your art is making the world a better place.
Follow Sara on instagram @saraerenthalart. Click here to donate to her Gofundme page.